Bruno Gavino: "We built a team of strong individuals"
Lisbon, Jun 5th, 2017
Codedesign is a Lisbon-based digital agency with a team of 12 strong dedicated professionals marketers, developers, digital geeks, and creative thinkers. Founded in 2015, Codedesign's mission is helping businesses grow online.
Bruno Gavino, CEO and founder calls, "After a collective 15 years of working in the scope of digital marketing, we decided to ditch the corporate environments, pool together our experience and start our own agency. We aim to develop a personal relationship with each and every one of our clients, regardless of size, and build a company where people can show up happy to work everyday."
Codedesign has a few clients in the US, and considers this an important enough market to have a contact point in New York. However, the agency is thriving in Portugal.
"Some say that Lisbon is new Berlin thanks to an influx of young creatives attracted by the city's affordable rents, thriving business and culture," says Bruno. "A vibrant entrepreneurial culture has emerged with everything from small design ateliers to new agencies, and online businesses opening in the city."
 
Can you describe your agency in three words?
Eclectic, Authentic, Driven
What is the best way to earn trust from customers?
Never compromise your personal standards. Set the bar high for yourself and the quality of work your agency puts out, and go the extra mile to get there each and every time. Whether it's a project for a major corporation with six digits in monthly media spend, or a startup with a small budget, never give your second best. Your customers will notice and they will put their faith in you and your team.
Can you give me an example of when you have worked with multiple clients at the same time and how did you managed?
Working with multiple clients at the same time is our everyday reality at Codedesign. We're a small agency and we're always taking on new clients, so my partner and myself don't have the bandwidth to manage them all.
We knew from the beginning this would be the case, and that's why we built a team of strong individuals. We've cherry picked for people who we know we can trust with responsibility. Each team member manages at least one client and I think it's been a great system for all parties involved.
Can you share an example where you have had to resolve an issue between a creative team and a client? What did you do?
This is something I recently experienced internally. Since we don't have a design team in-house, we hire designers on a freelance basis as needed.
We needed some work done for ourselves so we had hired a designer to create some banners for Codedesign. In this case we were the client.
Her work produced simply wasn't what we were looking for, and I told her that. I explained that it was not a reflection on her skill as a designer, but that we needed the banners to adhere to more specific parameters. With the feedback I had given her, she produced a second draft of the designs and they turned out awesome.
How do you motivate other members of the team to achieve more?
I always try my best to make it known to my team that the company's success is their successes. When the company thrives, they will thrive with it. I like to treat them to lunches, schedule regular team building activities, and let them know that their hard work is noticed and appreciated.
How do you ensure you and your team delivers or exceeds customers' expectations?
I can say with full confidence that we deliver and exceed customer expectations because we have a strong team. We take pride in our team and the agency we have built together. We stand behind our name and our work reflects that.
What is the communication style within your team? Do you use any apps or tools?
When we are not all at the office: Email, Skype, or Google Hangouts. But we work in an open office, so we have a constant stream of communication. Communicating is usually just as easy as asking someone in the room a question, face to face.
What tools do you use as a manager to plan your activities as well as that of your team?
My Google Calendar keeps me (and my team) sane. It's shared with everyone so we all stay on the same page. Also, Freedcamp for assigning specific project tasks and HubSpot for the sales team.
How do you communicate bad news to a client or a member of your team?
No sugar coating. It usually goes something like: Here's the bad news, here are the options available at this moment, which course of action do you want to take?
Name a challenge your team is currently facing.
Finding like-minded developers. *AHEM Contact Us AHEM*
What piece of advice would you give a recent grad looking to work in digital marketing?
If you really want to learn about digital, grow your skillset, and develop an ability to think critically about marketing- work for a small company. Don't choose your job based on salary alone. Find a job that challenges you. Ask questions, get involved in projects, and learn what the other departments are doing. A decade down the road, you'll have more experience, knowledge, and will be worth much more than your counterparts who didn't push themselves from start.
How did you get started in the industry?
While studying for my undergraduate degree in engineering, I found an on campus position for a part time developer. Like most college students, I was in need of some extra cash, so I learned how to code. What started out as a means to an end became the beginning of a very non linear path in digital. Fast forward a few years down the road and I am working in a huge international advertising agency. As advertising grew increasingly digital, I knew I wanted to be more involved in the digital side as well. I'd always been motivated by business and, for lack of a better expression (or perhaps just my background in agriculture speaking), getting my hands dirty. So, I started building digital agencies.
Are there online publications, professionals, industry leaders you follow?
Rand Fishkin, Steli Efti, Neil Patel. And these are some of my favorite blogs to follow.
Please list a few of your favourite digital brands:
Google, Moz, Litmus, Mailchimp.
What do you like doing in your free time?
Reading, yoga, and watching Benfica dominate Sporting in the Primeira Liga, of course.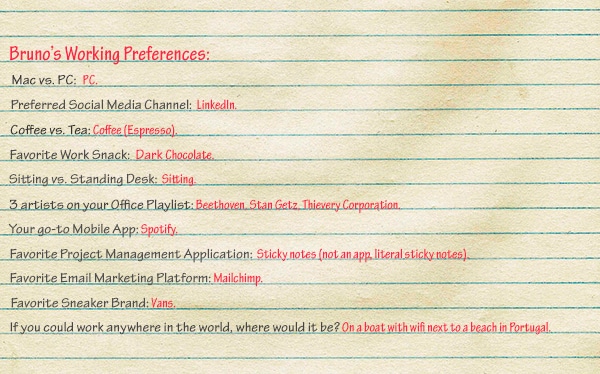 Thanks Bruno!
By Geny Caloisi.
genyc@topinteractiveagencies.com
Follow Bruno Gavino on social media:
LinkedIn
Follow Codesign on social media:
LinkedIn
Facebook